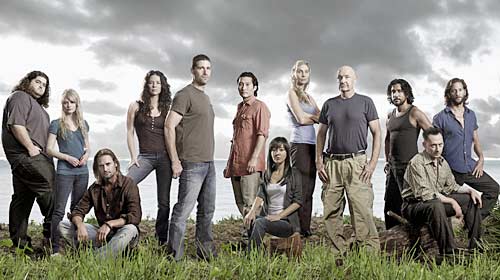 PaleyFest in Los Angeles will be hosting a cast reunion for the 10th Anniversary of LOST on Sunday, March 16, 2014. (That's the 10th anniversary from the year the show started — it hasn't been that long since it finished — though it has been almost four years, which is hard to believe — time flies.)
Scheduled to appear: Josh Holloway (Sawyer), Daniel Dae Kim (Jin), Yunjin Kim (Sun), Jorge Garcia (Hurley), Emilie de Ravin (Claire), Ian Somerhalder (Boone), Nestor Carbonell (Alpert), Henry Ian Cusick (Desmond), Malcolm David Kelley (Waaaaaaaaaalt), executive producer Carlton Cuse, and more.
Carlton talked about the show in an interview posted yesterday on Vulture. He's still defensive about fan criticism of the ending. "We did the version that we wanted to," he said. "Damon and I still stand by it. There was no answering-a-million-questions version of the end that wouldn't have been didactic and awful."
Whatever your opinion of the ending, the reunion should be an exciting event. For those of us unable to make it to L.A., there were hopefully be video posted on YouTube after the event is over.