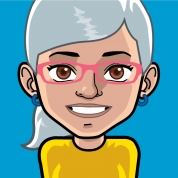 Hi.  I'm Ms Terri, and this blog is for fans of the amazing TV show LOST. I offer interesting tidbits, unusual items, theories, news, recaps, many questions, a few answers, polls, video clips — anything related to LOST that might enhance our enjoyment of the show.
I'm not a big expert on the show, just someone who loves to watch it and write about it.
The blog's title refers to John Locke's line, "We were all brought here for a reason." Figuring out that reason is what LOST, and this blog, are all about.
If you have any questions, suggestions, requests, complaints, or secret stashes of never-before-seen photos of shirtless Sawyer, please feel free to email me at eeekablog (at) gmail (dot) com.
Thanks so much for dropping by.
About Me
I'm a freelance writer who is just a wee bit obsessed about LOST.
All written content (c)  2009-2011 Ms Terri
Unless otherwise specified, all images and video clips (c) ABC